Approx. 90 mins.
per group
Kunsthistorisches Museum, Vienna
€22 p.p.
excl. museum entrance
Can you join the Emperor's Magic Circle?
Explore one of Vienna's hidden gems, the Kunst- und Wunderkammer at Kunsthistorisches Museum. The finest collection of it's kind in the world.
Here you will meet the eccentric Emperor Rudolf the Second, who collected many of the astonishing objects on his quest to uncover the mysteries of the universe. The Emperor will test you with puzzles, to see if you are worthy of joining his magic circle and explore the world by his side.
The Mystery Hunt is an 100% analog product that consists of beautiful old envelopes filled with tasks that challenges your intellect, while strengthening cooperation and personal relations. The experience is suited for teambuilding, a group of friends, and children alike.
The Mystery Hunt can be played by groups of 4 to 100 persons. If you are a big group you can choose to split up your group between the Mystery Hunt in the Kunstkammer and our other Mystery Hunt The Riddle of The Sphinx in the Antique Collection of the KHM.
The Mystery Hunt can be played in:

Practical Information
You can be 4 to 8 people in one group. If you are more than 8 people you will be divided into groups.
The Mystery Hunt at Kunsthistorisches Museum is delivered in a Mystery Box™ when you show up at the Kunsthistorisches Museum.
You complete the Mystery Hunt on your own.
You must pay €10 per person for entry to the Kunsthistorisches Museum.
It is not allowed to be intoxicated or consume alcohol in the museum.
We recommend that children are at least 14 years old and accompanied by adults if they participate in our Mystery Hunt games.
The Mystery Hunt cannot be booked for bachelor/bachelorette parties.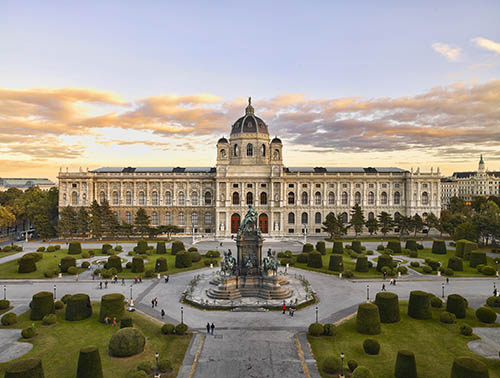 The Mystery Hunt in the Kunstkammer at KHM™
Kunsthistorisches Museum Wien
Maria-Theresien-Platz
1010 Wien
Austria
Frequently Asked Questions – The Mystery Hunt in the Kunstkammer at KHM